Tiendeo is an online platform that groups together digitalized and geolocalized catalogues and weekly ads of major retailers. My work there was to revamp the apps and push them forward to new standards and trends.
This is the original app (before revamp) with the new shopping list button interaction I designed.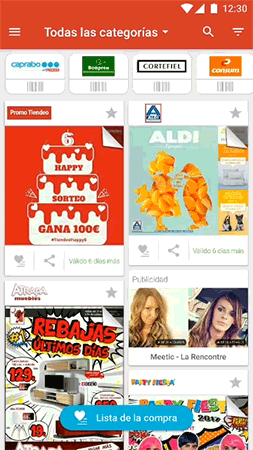 First of all I made a benchmarking with the competitors and similar apps. I analysed their user flow to understand which were their priorities.
This slideshow requires JavaScript.
After several iterations this was our User Flow
Prototyping in low, medium and high was a priority. Between iterations things changed even in the user flow.
For the final layout I did my first attemp of a custom UI, without following 100% the OS guidelines for android and iOS, I wanted to do a unique style for the company. The first thing was to use the corporate typeface, Open Sans.
I designed some icons following the lines and the curves of the typeface. The steady state has outline style and the over state has solid style.
The home has many features. Quick access to loyalty cards, featured catalogues, corporate banners, notifications, search and a navigation menu to the main areas.
Catalogue Interaction
Some other areas such as the Search and Categories, the Shopping list or the Favourites manager.
| | | |
| --- | --- | --- |
| Favourites tab animation | | Shopping List |
App icon

Google play imagery